steve hat geschrieben:
I have never been inside, but its loking nice from outside. It should be ok!
right im glad thats us all sorted out,we have flights,and a hotel,now all we need is the weekend of 21/10/05 and we can all meet up and go on the beer, and have a good time, i have a headache trying to get this sorted out, its hard trying to get something with price range and near the stadium, and the reeperbahn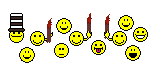 thanks for your help guys,good luck with your seasonand will see yous in september for the inverness game,but i will keep in touch with yous on here.